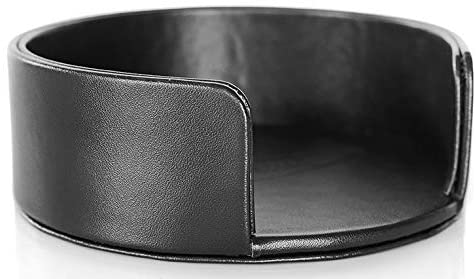 Product Description
WHY COMFORTENA COASTERS WORK
Comfortena's coasters provide a proven recognized solution combined with stylish elegance, which thousands of people already enjoy and appreciate, as verified by the reviews.
1. They absorb drips and spills
2. They don't lift up with the glass
3. They don't easily slide
4. They can easily be cleaned
5. They protect your furniture
BEWARE OF COPIES
COMFORTENA is the original exclusive designer and manufacturer of the felt insert coasters. Make sure it says COMFORTENA, you deserve the best!
Enjoy Relaxing Drinks Without the Mess
| | | | |
| --- | --- | --- | --- |
| Regal Gold Coaster Set with Leather Holder | Regal Gold Coaster | Regal Silver Coaster Set with Leather Holder | Regal Silver Coaster |
Unique Design Exclusive to Comfortena
Beautifully crafted Leather Holder to enhance your Regal Coaster Set
The Most Professional and Respected Drink Coasters of Them All
Aesthetically Pleasing and Super Practical
Constructed with a heat resistant food grade silicone base which has a specially designed gripping surface to prevent accidental slips and spills.
WILL NOT DRIP CONDENSATION ON YOUR CLOTHES. Ever taken a sip of your cool drink only to have the glass drip onto your best top or trousers?

WILL NOT STICK TO AND LIFT WITH THE GLASS. How annoying is it when the cheap coaster sticks to the glass and then falls off onto you or your nice polished side table?

EASY TO CLEAN, just slip them apart and wash the felt pad and silicone base components by hand in warm soapy water. Hand wipe the steel band.

BUY WITH CONFIDENCE. Satisfaction is paramount. That's what they were designed for!
STYLISH & SOPHISTICATED
Comfortena's Regal Coaster Collection was specifically designed with elegance and high-end taste for quality in mind.
Rest assured, at COMFORTENA we are very particular with the quality and aesthetics of our products. If our customers aren't happy, neither are we.
Comfortena's innovative designs continue to provide thousands of happy people with super practical coasters. They do not scratch or mark surfaces, condensation is soaked up and contained by the felt inserts, they do not drip on your clothes, and they stay put when you lift your glass to drink!
How To Clean Your Comfortena Coasters
One question which is often asked is: How do I clean my Comfortena Coasters and keep them fresh?
The best way to clean the coasters is to remove the felt from the base and wash them by hand in warm soapy water (With the Regal Coasters, just wipe the metal band with a damp cloth). If this is done regularly, then they will stay fresh and clean. Sometimes the silicone base may only need a quick wipe whereas the felt may need to be properly washed.
Another trick is to turn the Felt Insert over inside the Silicone base from time to time to keep the used surface fresh and nice.
That is why Comfortena decided to provide separate Felt Packs so you can remove the damp ones for washing and replace them with clean ones, and therefore always have your coasters looking lovely and clean.
🍹 EXQUISITELY SHAPED & CRAFTED - A coaster set holder designed and created with utmost skill. It holds round coasters in place while the open edge allows you to pull out each piece with ease.
🍹 BLENDS WELL WITH DECOR - Whether at home and in the office or at your event, cafe and restaurant, the simple but elegant black leather looks great with just about any interior design motif.
🍹 STURDY & DURABLE - Our coaster holder is padded well enough to maintain its shape, standing sturdily to store coasters flawlessly. All stitching and adhesive are reinforced for longevity.
🍹 PERFECT ADDITION TO COASTER GIFT SET - Giving coasters for drinks as a present? Include this holder to keep the pieces organized. Ideal for wedding, Christmas, anniversary, and housewarming parties.
🍹 BEST FOR COMFORTENA'S REGAL COASTER SET - This round coaster holder is crafted and shaped to fit, store and showcase the 4-piece regal silicone coasters exclusively made by Comfortena for chic gatherings.