Comfortena Spare Absorbent felt Coaster Inserts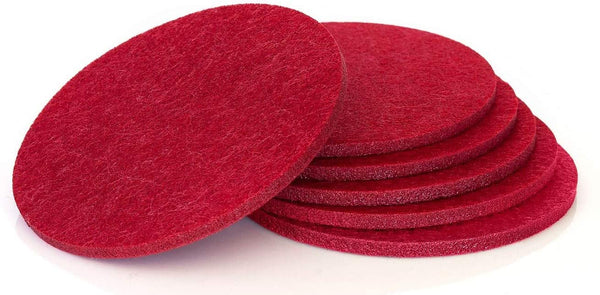 Comfortena Spare Absorbent felt Coaster Inserts
Product Description
WHY ARE THE FELT INSERTS SOLD SEPARATELY?
One question which is often asked is:How do I clean my Comfortena Coasters and keep them fresh?
The best way to clean the coasters is to remove the felt from the base and wash them by hand in warm soapy water. (With the Regal Coasters, just wipe the metal band with a damp cloth). If this is done regularly, then they will stay fresh and clean. Sometimes the silicone base may only need a quick wipe whereas the felt may need to be properly washed.
That is why Comfortena decided to provide separate Felt Packs so you can remove the damp ones for washing and replace them with clean ones, and therefore always have your coasters looking lovely and clean.
Unique Design Exclusive to Comfortena
Easily Cleaned
The Most Professional and Respected Drink Coasters of Them All
Aesthetically Pleasing and Super Practical
The Comfortena Felt Insert is constructed with heat resistant .16 inch (4mm) thick soft absorbent felt which soaks up condensation and spills.
WILL NOT DRIP CONDENSATION ON YOUR CLOTHES. Ever taken a sip of your cool drink only to have the glass drip onto your best top or trousers?

WILL NOT STICK TO AND LIFT WITH THE GLASS. How annoying is it when the cheap coaster sticks to the glass and then falls off onto you or your nice polished side table?

EASY TO CLEAN, just slip them apart and wash by hand in warm soapy water.

BUY WITH CONFIDENCE. Satisfaction is paramount. That's what they were designed for!
Comfortena Felt Inserts Fit Both The Classic And The Regal Coaster Range
Beware Of Copies
COMFORTENA is the original exclusive designer and manufacturer of the felt insert coasters. Make sure it says COMFORTENA, you deserve the best!
FELT INSERTS for Comfortena Coasters.
BUY THE FELT PIECES on their own in packs of six so you always have a spare set of felts on hand.
SPARE FELTS so you can put new felt inserts in your coasters while the other ones are being cleaned.
SUPER ABSORBENT FELT soaks up and contains the moisture.
PLEASE NOTE: THIS IS THE FELT PART ONLY OF THE COMFORTENA COASTERS. Please see our other listings for the complete Silicone Absorbent Coaster range.